INTRODUCING MPACT
Human-centered design requires a deep understanding of people's lived experiences. The MPACT framework gives designers insight into these experiences, and the tools, functionality, and content that might improve them.
Knowing someone's age, income, and marital status may be helpful for marketing, but demographic-based personas don't offer the actio3nable insights you need to design awesome experiences. Behavior-based personas created with MPACT help you make product decisions based on the personality traits that your users exhibit.
THE MPACT METHODOLOGY
MPACT brings 3-6 diverse stakeholders (plus one facilitator) together to create personas. During the session, the facilitator guides the group through a series of activities, focused on "filling in the blanks" on the "board". There are detailed instructions provided at each step.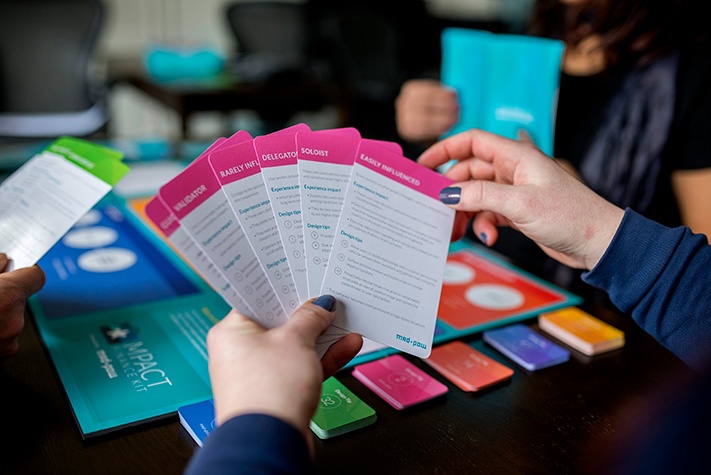 Teams leave the session with:
A set of behavior-based personas that solve for mutually agreed-upon goals
Actionable design tips based on relevant behavior attributes
A deep sense of investment and ownership for the personas created, and the ability to speak on their behalf and champion them within their organization.


KITS AND MPACT TRAINING
The MPACT kits are based on hundreds of interviews with all kinds of people who inhabit the health and finance ecosystems, as well as peer-reviewed research studies in psychology and behavioral economics. For quick-start adoption of the framework, we offer these kits with robust content as well as MPACT training at organizations via a variety of engagement models. Get in touch at mpact@madpow.net for more information.
Have a kit and need additional empathy maps? Download the empathy map format here.
Have a kit and need additional persona sheets? Please write to us.
MPACT LITE is a print-it-yourself Creative Commons version of MPACT. This less robust version contains everything you need to learn the MPACT framework and run a session in any industry. Click on the button below to get a copy of MPACT Lite in your email inbox.



If you've used the Lite Kit, please take a few seconds to leave your feedback so we can make MPACT better. Enter the survey here.
RESOURCES
To learn more about personas, and how MPACT helps you create behavior-based personas, watch the video below. Please note that this is an older video, and we've updated the Lite Kit mentioned in the video since.